24-hour Organ Qi Cycle
Roll your cursor over the Organ names within the colour wheel to learn more about the emotions connected with each organ.
Please bookmark my new website: www.lightcenterlove.com
All new posts and updates wil take place on my new website, now:)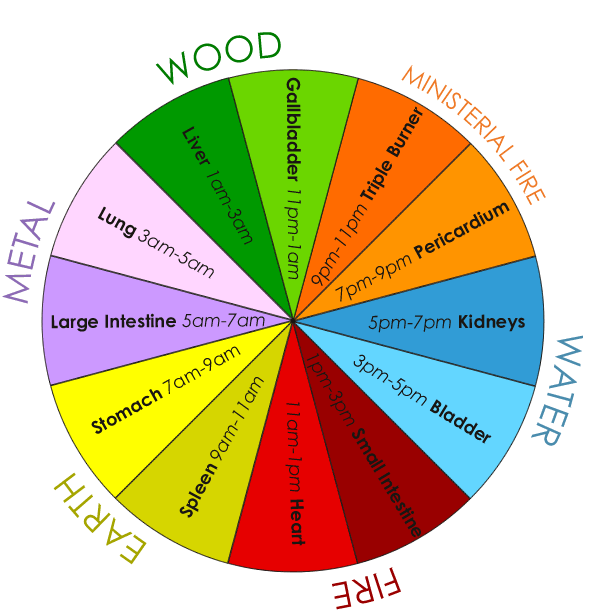 If you awake in the middle of the night repeatedly - make a note of the time and check the above diagram to see if the organ-health and corresponding emotions relate to your present physical and emotional health.
Making your own correlations is what this is all about...
Perhaps there is a time of day that you find particularly odious - or a time when you feel tired and wiped out? Check the chart and see if you can shed any light on what lies at the bottom of your discomfort.
Hope you get some 'Ah-HA!'s
Below, click on 'more' to go to some excellent websites with more details on this subject
| | | | | |
| --- | --- | --- | --- | --- |
| Spleen | Over-thinking/Pensiveness | Lips | Good article with great list of symptoms for each Organ/Emotion | Air Signs: Libra, Aquarius, Gemini & Mercury |
| Lungs | Grief/Sadness | Skin | Basic Principles of the Seven Emotions | Virgo/Pisces axis & Moon/Neptune aspects |
| Kidney | Fear/Feeling Vulnerable | Hair | 5 Elements & Health/Imbance table | Water Signs: Cancer, Scorpio, Pisces |
| Liver | Anger/Frustration | Eyes | Great table with everything! | Earth Signs: Capricorn, Taurus, Virgo & Mars |
| Heart | Joy/Lack of Joy | Face | Scroll to the bottom where he starts listing all the related ills for Spleen/Worry - he goes through each organ/emotion - and it's very extensive! | Fire Signs: Aries, Leo, Sagitarrius & Jupiter |