Home-made Organic Pesto made in a Mortar & Pestle!

Pesto made the old-fashioned way with a mortar and pestle!

You guys - this was actually faster than making it the blender way (which is always frustrating no matter what blender you get that is supposed to be 'pesto-friendly' ya know?). I put the water on to boil the pasta and then started in on the pesto. The pesto was ready and the pasta had 6 more minutes to cook (!)...and I didn't have to struggle getting the pesto out of the blender and no cleaning the blender! (I'm not a cleaner)

Makes about 1/2 cup
Two handfuls of fresh basil leaves
1 small clove of raw garlic, crushed (optional)
1/4 tsp salt (ish - maybe a bit less)
2 to 3 tbsp of pine nuts and/or pecans
1/3 cup of finely grated parmesan or/and romano cheese
3 tbsp of olive oil

Put on your pot of water to boil and then go fetch your basil.

I have a very small mortar (it holds 1 cup of liquid comfortably) so I filled it up with basil leaves (loosely packed, as shown) and added the salt and started pestle-ing. At first I thought: how the hell? Then I just did the round round round action and, voila, within less than 30 seconds it was all pulverized! Seriously! The amount of pulverized basil was tiny, though, so I filled it up with the same amount again and went to work for another 30 seconds. If you're using raw garlic (I don't because it gives me a headache) add it now along with the nuts. I added them whole and then just pulverized them with a straight down action (honestly, this is the most exercise I've gotten all summer - I should make pesto more often!). It's pretty fun. Then I added the fine parmesan. Then I added the olive oil 1 tbsp at a time. Done!

Once the pasta was done I drained it and then put it back in the hot pot...spooned the pesto into it and mixed thoroughly (for good coverage)...then used my fantastic le creuset spatula (they truly are super) to get every last bit of pesto out of the pot and into my bowl. Grate some parmesan on top and mmm mmm enjoy.

This is probably enough to do two servings but I ate it all in one sitting (oh my) - I couldn't help myself! Deeeeelicious!!!
Sardines on Pita bread with Capers, Red Onion and Lime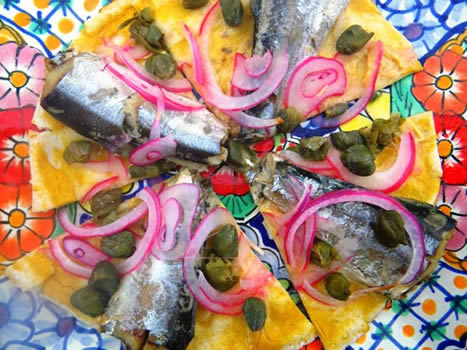 Sardines! You either love 'em or hate 'em...I happen to love them...especially done this way. Yum yum yum.

Pita bread
Dijon mustard
Sardines
Capers
Red Onion
Lime
Olive oil (optional)

Spread some dijon on your pita bread, lay the sardines down, sprinkle with as many capers as you want (I like lots), and top with thinly sliced red onion. Sprinkle with a little olive oil.

Put in the oven to grill the top for a few minutes. The onions will cook slightly which is nice. (This is the tastiest way to do them but I don't have an oven with a grill so I just warmed it all through although you can totally eat it cold, too)

Squeeze LIME all over it when it's out of the oven, cut into 4 and voila...it's a really tasty lunch packed with goodies:
Sardines: omega 3's, calcium, Vitamin D, B12 and protein
Capers: antioxidants - who knew!? Protein, Vitamin A and E
Red Onion: more antioxidants

Enjoy!
Organic Cucumber & Tomato Sandwiches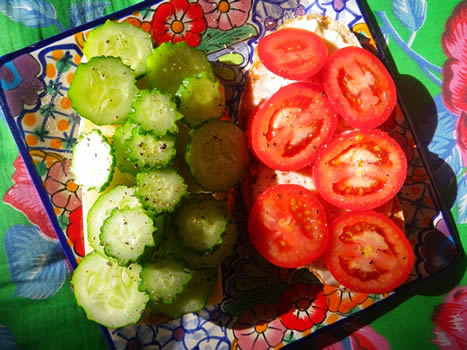 These last couple of years I have grown my own Suyo Long cucumbers (the crunchiest, most delectable cucumbers I've ever tasted in my whole life, I have to say!) and my own tomatoes, too (but not the ones pictured above....see the ones below...mmmm mmmm!) There is nothing more gratifying than growing your own vegetables! My best tomatoes are grown in large clay pots on my terrace SO as long as you have some sunshine you can do it too!
Soooooo I know what you're thinking: sandwiches aren't much of a recipe but these ones are pure heaven and I'm just reminding y'all that the simplest thing can be a taste sensation. The freshest organic cucumbers and tomatoes from your garden (or your nearest organic garden!), your favourite bread, whatever it may be, all add up to a perfect snack.
Cucumbers & Tomatoes, sliced thickly
Your favourtie bread, toasted and buttered
Mayo
Salt & Pepper
Toast and butter your bread, slather in mayo (the cucumber sandwiches are good with dijon, too!), top with the cucumbers or tomato slices and shake some salt and pepper over top. Enjoy!
My Great Grandsmothered Cabbage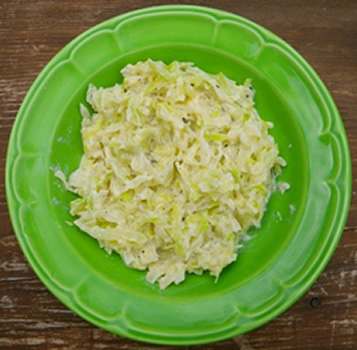 Here is our family's famous (to us) Great GrandSmothered Cabbage recipe - time travelling all the way from the 19th Century!

My mom called this GrandSmothered Cabbage but, to me, it's Great GrandSmothered Cabbage...passed down from my Great Grandmother, to my Gran then to my mom and finally, to me.

It's super simple and tastes delicious.

Cabbage, cut finely
1 cup of milk (or organic chicken stock like "Better than Boullion")
Salt and freshly ground pepper to taste

Put it all in a frying pan, cover and bring to the boil. Once it's boiling you can remove the lid. As it is cooking the scent is yum yum yummy....I think it's the freshly ground pepper that does it! It'll take about 15 minutes to soften the cabbage and soak up all the milk. When the milk's all gone, it's ready!

I tried it once with cream because I didn't have any milk and, oh man, WAY toooooo rich. The milk is just perfect.
You can also make it with chicken broth for something different. Very tasty too. Buen provecho!

Don't ya feel like you're back in the gold rush days with this simple fare? (My Great Grandfather adventured up north in the late 1800's looking for his fortune with all the rest of them...)
Roasted Vegetables with Roasted Potatoes

A Potato-Lovers Dream - soooooooo easy! Who doesn't love roasted potatoes?

Organic white potatoes, unpeeled and/or peeled yams or sweet potatoes
Salt
Freshly ground pepper
1 tbsp (ish) Olive oil
Freshly chopped rosemary

Halve and then cut the potatoes into wedges - either 3 or 4 per side depending on the size of the potato. Throw into a bowl with the above ingredients. Toss like you would a salad to coat the olive oil and spices. Put all the wedges, skin side down, on a cookie sheet or casserole dish and pop in the oven at 350 degrees for 30 minutes for the sweet potatoes or yams or about 45 minutes for the regular potatoes. No turning them, nada. Easy as pie!

I often make a combination of potatoes in one batch and don't bother taking the yams or sweet potatoes out early - they don't seem to get too overcooked with that extra 15 minutes. To compensate you could cut them a little thicker than the regular potatoes.

Roasted Vegetables
Tomato wedges
Onion wedges
Red Pepper
Zucchini rounds
Eggplant rounds, and quartered
Mushroom chunks

You can make roasted vegetables exactly the same way as the potatoes - just omit the rosemary. They work the best if they are only one to two vegetables thick on the roasting dish - because if you pile them up they'll never brown. Bake for 45 minutes. At about the 25 minute mark you might want to give them all a stir and flip.

When they are ready I drizzle the roasted vegetables with a little balsamic vinegar and tossed in some fresh basil. MMM mmmm. You can eat them just like that, right off the plate or The Re-Bar Cookbook (from my home-town restaurant by the same name) suggests making some quesadillas out of the roasted vegetables by spooning the roasted vegetables onto one side of a quesadilla shell then adding some cheese - which I've done many a time. Asiago is mmm mmm super! You don't need much asiago cheese, though, to do give the quesadillas some zing!
Flor de Calabaza Tacos

Mmmmm mmmm! I got these gorgeous Flor de Calabaza's at the farmers market. Aren't they stunning? AND they were super tasty as well (who knew? I had never made them myself).
Flor de Calabaza (zucchini flowers)
Mushrooms
Butter
Salt & Pepper
Corn tortillas
Cheese: feta, goat's cheese/chevre, queso fresca or seco

I just sauteed some mushrooms in butter, salt and pepper and then sauteed the flor's too and laid them out on a corn tortilla with some of the fresh queso fresco I got at the farmers market too. MMmmm. Simple, tasty fare!
In Mexico this is how they make their tacos: open-faced like this. You just pick them up and they naturally fold into the 'known' taco shape and you can munch them that way.